Hummingbird Talk February 10
with r

ehabilitator Monique Rea
Products Designed by Experts
Trusted Local Advice™

17611 Yorba Linda Blvd.
Yorba Linda, CA 92886
(714) 985-4928
In-Store Presentation
Learn More About Hummingbirds!
Please join us Wednesday, February 10 as we host hummingbird rehabilitator Monique Rea for a presentation on these wondrous "Jewels of Nature."
Monique will tell you all about our local hummingbird species, their amazing adaptations and nesting habits. She'll also share stories about caring for abandoned and injured hummingbirds in her role as a licensed wildlife rehabilitator. There will be time for your questions, as well.
Seating is limited, so RSVP's are required.
Call us at 714-985-4928 to reserve your space.
Wednesday, February 10
10 am to 11:15 am
Wild Birds Unlimited of Yorba Linda (upstairs)
RSVP at (714) 985-4928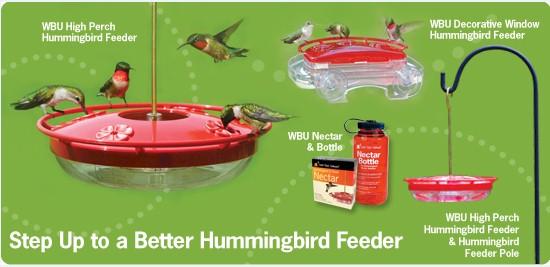 We Make the World's Best Hummingbird Feeder
No Bees - No Ants - No Drips!
Pan-style prevents bees from feeding at the nectar ports

No yellow color to attract bees

Nectar sits below the ports to prevent dripping

Built-in Ant Moats keep ants out

Raised Perches mean you can see the birds from any angle

Lifetime Guaranteed

If anything breaks on it, we'll replace it free!
20% OFF One Regularly-priced
Non-Bird Food Item*
*Valid on in-store purchases only at WBU Yorba Linda. One discount per purchase. Not valid with other discounts or offers, special orders, previous purchases, optics, Brome Bird Care branded feeders or Daily Savings Club memberships. Valid thru 2/15/16.